Mt. Hood tops out at 11,245 feet above sea level and is an active volcano.

Portland addresses are divided East/West by the Willamette River and North/South by Burnside Avenue.

Now that you live in Portland, all your relatives and friends will visit you this summer. Even casual acquaintances you haven't seen in 15 years will show up.

Portland receives less rain per year (~37") then New York, Chicago, Boston, and Washington, DC.

Portland's best summer weather usually arrives on July 5 and lasts through the end of September. This makes planning for Fourth of July picnics a real challenge.

Enjoy the outdoors in Portland - there are practically no mosquitoes and very few bugs in general.

Get a large dog. Wear an Eddie Bauer jacket, jeans and Nikes.

Take all weather forecasts with a grain of salt. If you need to know the weather, stick your head out the window.

Frequent Jake's, Powell's Bookstore, Shop the Pearl and visit Multnomah Falls.

Our roads are meticulously maintained, but you may want to buy an SUV or 4-wheel drive pickup to take skiing or to negotiate Portland streets on snowy days.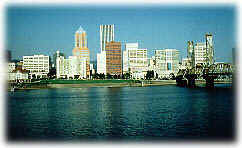 Visit downtown to see upscale Niketown (now Portland's top tourist attraction), Pioneer Courthouse Square (the proverbial town center), The Pearl District, Waterfront Park (site of Rose Festival Fun Center and other community events), Portland Art Museum, Theaters, the Oregon Historical Society, and the Heathman Hotel & piano bar.
Mt. Tabor, located in east Portland, is the only volcano in the U.S. to be situated within a city limits.
The "Starbuck Factor" can help you determine which neighborhoods are trendy.
Oregon has more breweries per capita then any city in the United States. You can visit many of the microbreweries located in the Portland Area.
Portlanders do not use the horn on their car or SUV. It is considered bad manners.
Portland is known as the "Rose City" because of the profusion of these lovely flowers in our area.
The Oregon coast is a great place to explore but the water is a little too cold for recreational swimming. Whales and seals are frequent visitors.
Oregon symbols:
Nickname – The Beaver State
Flower – Oregon Grape
Bird – Western Meadowlark
Tree – Douglas Fir
Fish – Chinook Salmon
Real estate agent – Dianne Rodway and The City Properties Group